Media
Press Releases & Articles 146 - 150 of 167
Minister Congratulates Opso Award Winners





26th October 2010 - Views: 832

The Department of Health and Ageing – together with the Office for an Ageing Australia – sponsored four of this year's OPSO awards, which recognise the positive portrayal of older people in our media.
Mr134-10: More Spectrum Released To Improve Regional Mobile Telco Services





25th October 2010 - Views: 823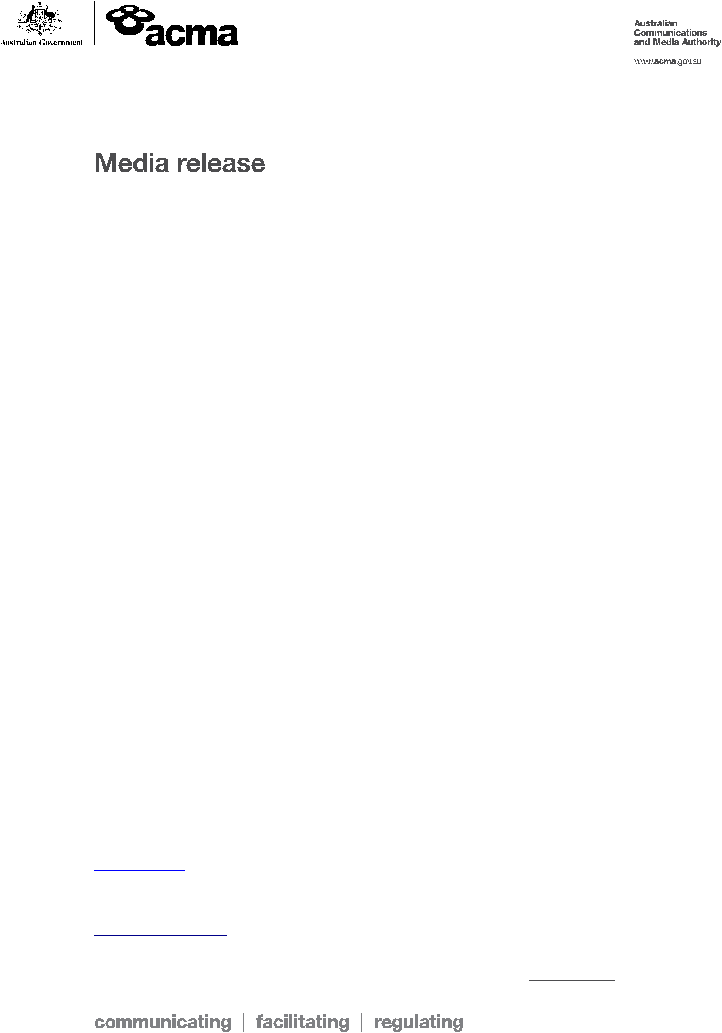 The Australian Communications and Media Authority has completed licensing for spectrum for mobile telecommunications services at more than two thousand sites throughout regional and remote Australia.
Mr133-10: Acma Asks, Do Phone Numbers Add Up?





25th October 2010 - Views: 826 The increasing use of mobiles, the impact of VoIP and the very wide utilisation of capped plans and bundling marketing practices are posing important questions for the way traditional telephone numbers are managed, according to the first of a series of issues papers released today by the Australian Communications and Media Authority.
Take 5 - Second Chance At Life





25th October 2010 - Views: 820

Motorbikes were Chris's passion. But one day in 2007 when he went out for a spin he was involved in a horrendous accident. With extensive injuries, he died on the operating table, but miraculously came back to life and survived the surgery.
Where Chad Fletcher Went Wrong





23rd October 2010 - Views: 783 International mentor to the stars and New York Times Top 10 best-selling author of Chicken Soup for the Parents Soul, Raymond Aaron is not surprised by the demise of Chad Fletcher and other high profile sporting identities and says the solution is actually very very simple.