Fashion
Press Releases & Articles 91 - 95 of 103
Gen Y Fronts Up To Bonds Dodgy Undie Exchange





23rd October 2010 - Views: 1166

The 'Dodgy Undie Amnesty' was prompted by a Galaxy study of over 2,200 Australians and we've got some great stats about the Adelaide men undies wearing habits, which will be released on upon request.
Frugality Or Priorities? Most South Australian Men In Dodgy Undies





22nd October 2010 - Views: 1107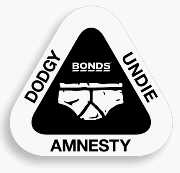 The "revealing" survey of 2,200 Australians found that 31 per cent of South Australian men are wearing undies that fall down because the elastic from the waistband has gone.
82,500 Hits To Stella Mccartney For Target Website Collection In Target Stores Next Week!





21st October 2010 - Views: 978 Women across Australia must be counting down the days until Stella McCartney's new Designers for Target collection hits stores on Friday 29 October, with over 82,500 hits to the website to view the range since the collaboration was announced on 1 October.
Search For The World's Best Couple Countdown Begins





13th October 2010 - Views: 885 Kim Kardashian says: "Like many women, I love diamonds. I am looking forward to launching the search for the world's best couple!"
Aussie Blokes Come Clean About Dodgy Undies





12th October 2010 - Views: 1415

A Galaxy study of 2,200 Australians revealed that 76 per cent of men own dodgy undies, with some having up to nine pairs. The study also found that the dodgy undies were mostly old, holey, loose and discoloured.